Prevent mold by keeping the environment dry and clean.
The Environmental Protection Agency (EPA) recommends maintaining a relative humidity between 30% to 50% to prevent mold growth. You can measure this with a hygrometer: an affordable tool ($10-$50) found at most hardware stores. If your reading is above 45% humidity, it's time to act.
Ensure adequate ventilation in kitchens, bathrooms, and wet areas
Use dehumidifiers
Maintain HVAC units
Maintain air filters
Check for plumbing leaks
Use Biotab7 to clean at-risk surfaces
Mold thrives in cluttered spaces where dampness forms. Whilst it grows on common building materials, it can also feed on cockroach and dust mite feces, skin flakes, and food particles. Utilizing a strong and safe biocide like Biotab7 destroys these potential growth mediums, stopping mold before it can start.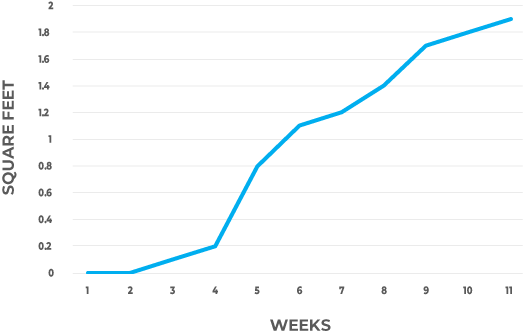 This data comes from the study Controlled Study of Mold Growth by Krause, Geer, Swenson, Fallah, & Robbins (2006), available here.
Mold establishes itself slowly for the first few weeks, before exploding into a rapid growth cycle at approximately 4 weeks.
Spores present were stachybotrys (black mold), penicillium, cladosporium, and acremonium. "Nearly confluent colonization" occured - meaning small spore growths started in patches, but quickly merged into large colonies.
At the end of the 10 week study, the colonies spanned two square feet.